It all started as a hobbie
My entrepreneurial endeavors began in 1978 with the creation of my first business, "Eastern Sun Burritos", a food truck in coastal downeast Maine. Although a purely take-out business from a converted mail truck, the emphasis was always on the presentation of the home made to order tacos and burritos. Years later the Firehouse Café was born in Orange, Virginia – again an opportunity to serve wholesome, homemade foods – this time in a welcoming atmosphere in a historic building with a whole lot of charm and eclectic furnishings. Ten years in the restaurant business easily led to the catering business, "Beggars Banquet", which was formed in 2002. The importance of homemade healthy foods, strong customer service, and attention to detail of every event was at the core of Beggars Banquet from its inception. Logically, then, the addition of the tabletop rental division was a natural direction in 2006 – the setting of the table recognized as an integral part of the catering experience.
The concept of the meal has always been a huge focus in my life… not just the food, but as important as the flavor, the community feeling that accompanies the meal… the gathering of friends and family. As a child the main topic of conversation in our family involved the planning of the meal – what to eat, where to eat it, and how it would be presented. And in my adult life this focus has continued – in business and on the personal level… the joy in planning a special meal – from the flavors to the setting of the table to every detail in the entertaining process.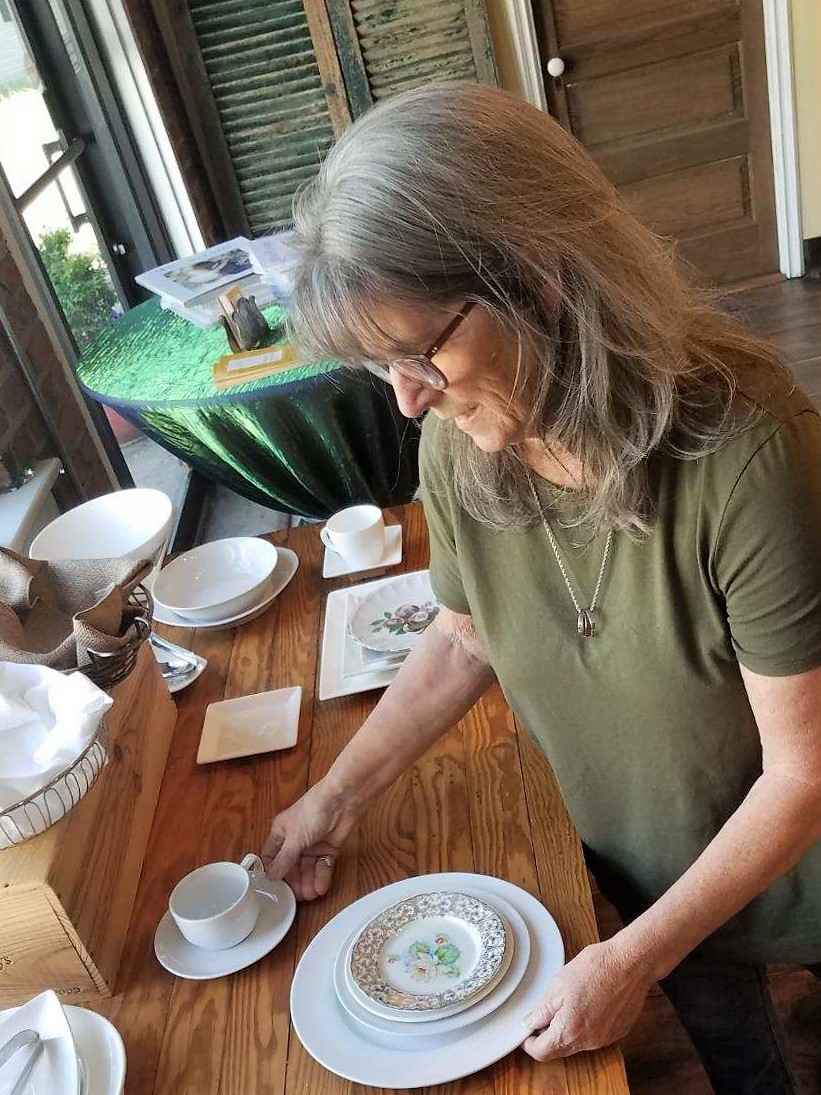 I feel that my experience based in catering, and entertaining in general, lends strength to our tabletop rental business. We understand the food and service end of a special event, as well as features of local venues throughout central Virginia, and that valuable first-hand understanding positions us well in terms of guiding you through your tabletop needs. The personal approach is so important and I would love to spend time with you planning the rental side of your event. Every detail is important and there are so many options to consider. Although showroom hours are a bit limited, I will make myself available for a consultation that fits your schedule. Please call to make an appointment!
In 2013 our showroom opened in this beautiful historic building in Orange, Virginia.

Table settings are our central focus. We have our extensive inventory on display in the showroom and can easily dress a table for you on the spot. The beggars rentals "team" also includes some hard-working folks behind the scenes in the warehouse and behind the wheel. We all work together with a common goal of consistent attention to detail and solid customer service. We feel that we offer an interesting variety of options at fair prices; we also offer discounts to the trade.